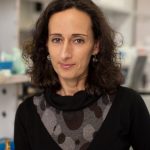 Stefania Capone it the Head of Preclinical R&D at ReiThera srl.
She received her degree in Biotechnology at the University of Rome, La Sapienza, and spent her over 20-years career in biopharmaceutical environment. As a Scientist at IRBM, an Italian R&D site of Merck, then at Okairos, a spin-off biotech that recently was renamed ReiThera after acquisition by GSK, she built strong expertise in molecular and cellular biology, immunology and gene-based vaccines. She was a key contributor to the development and preclinical evaluation of the chimpanzee adenovirus technology as robust genetic vaccine vector platform, distinguished by low seroprevalence, potent immunogenicity, and good manufacturability. She was instrumental in the clinical validation of the platform for a number of infectious diseases such as HCV, RSV, malaria, Ebola, rabies, demonstrating its safety in humans.
The group she leads is focused on the characterization of adaptive and innate (cellular and humoral) immune response in preclinical animal models and in human clinical samples and in further implementation of the genetic vaccination platform. She has expertise in design and monitoring GLP toxicology studies enabling progression to clinical trials.
Archive: