Confirmed speakers for XXVI Biotechnology Summer School:
1. Aleksandra Kołodziejczyk
Labolatory of Cellular Genomics
International Institute of Molecular and Cell Biology in Warsaw, Poland
Aleksandra Kołodziejczyk completed a first level degree in Biotechnology at the University of Perugia organized by consortium of European Universities including Intercollegiate Faculty of Biotechnology UG-MUG. During her studies she trained in the lab of Prof. Fred van Leuven (KU Leuven), Prof. Sir Alan Fersht (MRC LMB, Cambridge) and Prof. Matthias Wilmanns (EMBL). She completed her MSc Degree in Molecular Biosciences, majoring in Molecular and Cellular Biology at the University of Heidelberg. For her thesis she worked on chemotaxis towards bacterial autoinducer in the lab of Prof. Victor Sourjik. In 2012 to pursue her PhD she joined the group of Dr. Sarah Teichmann at EMBL EBI and Wellcome Trust Sanger Institute and worked in the emerging field of single cell transcriptomics. She focused on technical aspects of the method as well as gaining novel biological insights in T cells and mouse embryonic stem cells. She was awarded by EMBO Long Term Fellowship and Marie Skłodowska-Curie Action Individual Fellowship to undertake Postdoctoral training at the Weizmann Institute of Science in the group of Prof. Eran Elinav, where she applied her genomics skills to study the role of host-microbiota interactions in liver diseases. Since 2023, she leads the Laboratory of Cellular Genomics at IIMCB. Her research employs cutting-edge omics technologies to study host-microbiota interactions and gastrointestinal health.
2. Ewelina Małecka-Grajek
Laboratory of Single-Molecule Biophysics
International Institute of Molecular and Cell Biology in Warsaw, Poland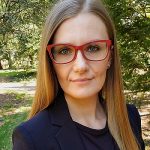 Ewelina Malecka-Grajek is the head of the Single-Molecule Biophysics Lab at the International Institute of Molecular and Cell Biology (IIMCB) in Warsaw. She obtained her PhD in Biochemistry from Adam Mickiewicz University in Poznan in 2017, where she worked with Prof. Mikolaj Olejniczak on studying RNA-protein interactions using biochemical methods.
After completing her doctoral studies, Dr. Malecka-Grajek spent five years at Johns Hopkins University in Baltimore, working in Prof. Sarah Woodson's lab. During this time, she focused on developing innovative methods for single-molecule imaging of biological molecules, with a particular focus on RNA folding and dynamics, as well as RNA-protein interactions in bacterial systems.
At the IIMCB, Dr. Malecka-Grajek will continue to use single-molecule imaging to answer fundamental questions in RNA biology. Her group will study the coordination between RNA targeting, degradation, and translation in bacteria. While most species of bacteria are harmless or even beneficial, some can cause infectious diseases. The goal of these studies is to define molecular mechanisms of complex cellular processes and identify potential targets for antimicrobial drugs.
3. Barbara Uszczyńska-Ratajczak
Department of Computational Biology of Non-coding RNA
Institute of Bioorganic Chemistry Polish Academy of Science, Poznań, Poland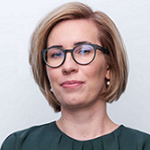 Barbara Uszczyńska-Ratajczak graduated from the Wroclaw University of Technology and Adam Mickiewicz University in Poznan, Poland. She obtained her PhD degree in chemical sciences at the Institute of Bioorganic Chemistry PAS. In 2013, as a postdoc, she joined the Bioinformatics and Genomics program at the Centre for Genomic Regulation in Barcelona and also became a member of the GENCODE consortium. This was the moment when she discovered her passion for long noncoding RNAs. Her major research interests focus on annotation and functional characterization of vertebrate lncRNAs, including zebrafish as a model organism. Her research contributed to the development of revolutionary new methods for full-length lncRNA annotation at high-throughput scales. Barbara has published her work in highly recognized scientific journals and received prestigious scholarships including MNiSW and L`Oreal Poland for Women in Science. Her research is funded by the National Science Centre Poland.
4. Wojciech Galej
Laboratory of Structure and function of RNA-protein complexes
European Molecular Biology Laboratory, Grenoble, France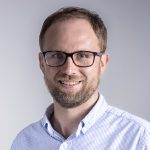 Wojciech Galej is a molecular and structural biologist who made scientific contributions in the field of pre-mRNA splicing and gene expression. He completed his undergraduate education at the college of Inter-Faculty Individual Studies in Mathematics and Natural Sciences (MISMaP) at the University of Warsaw from 2004 to 2009. He began his research career as an undergraduate student at the Institute of Genetics and Biotechnology at the University of Warsaw, where he completed a BSc project in the group of Prof. Joanna Kufel. He continued his education at the same institution, completing an MSc degree in Molecular Biology under the supervision of Prof. Kufel and Prof. Andrzej Dziembowski. During this time, he also completed a second MSc project in Chemistry at the Structural Research Laboratory under the supervision of Dr. Paulina Dominiak. He then went on to earn his PhD in Molecular Biology from the University of Cambridge in 2013, where he used x-ray crystallography to study splicing complexes under the supervision of Dr. Kiyoshi Nagai. After completing his PhD, he continued his research as a postdoctoral fellow at the MRC Laboratory of Molecular Biology in Cambridge, where he used newly emerging cryo-EM technologies to study the structure and function of splicing complexes. During this time, he solved the first high-resolution structure of the substrate-bound catalytic spliceosome. In 2016, he moved to the European Molecular Biology Laboratory (EMBL) in Grenoble, France, where he currently holds a Group Leader position in structural biology. His group uses an integrated structural biology approach combined with biochemistry and biophysics to investigate large RNA-protein complexes involved in gene expression.
5. Sebastian Glatt
Max Planck Research Group
Małopolska Centre of Biotechnology at Jagiellonian University, Kraków, Poland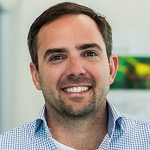 Sebastian Glatt studied at the University of Vienna and did his PhD at the pharmaceutical industry. In 2008, he joined the Structural and Computational unit at EMBL Heidelberg as a postdoc. There he transformed from a pure cell biologist into a protein biochemist, crystallographer and electron microscopist. Since September 2015, he leads his own independent Max Planck Research Group at the Malopolska Centre of Biotechnology of the Jagiellonian University in Krakow. He established and maintained fruitful scientific collaborations with leading labs around the world and he has published in highly prestigious scientific journals. He has received several prestigious grants, including the ERC Consolidator grant 2020, the EMBO YIP/IG as well as several grants from FNP and NCN. He was the laurate of the NCN award 2021 for life sciences and his team received the Krakow City Prize 2020. He is not only leading his international research team, but he is also deputy director of science at MCB and head of the "National Cryo-EM facility" at the Solaris synchrotron in Krakow.
6. Andrzej Dziembowski
Laboratory of RNA Biology – ERA Chairs Group
International Institute of Molecular and Cell Biology in Warsaw, Poland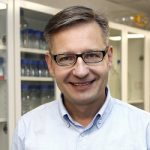 Andrzej Dziembowski is the head of an ERA Chairs Group at the International Institute of Molecular and Cell Biology in Warsaw, is a professor at the Warsaw University Faculty of Biology, and holds the Waclaw Szybalski Honorary Chair at the University of Gdańsk. He is also a member of EMBO and Academia Europaea.
Prof. Dziembowski graduated from the Faculty of Biology at the University of Warsaw, where he received his PhD. For several years, he worked at the CNRS Center for Molecular Genetics in Gif-sur- Yvette, France. He then headed an independent laboratory at the Institute of Biochemistry and Biophysics of the Polish Academy of Sciences in Warsaw. In 2019, the laboratory moved to the International Institute of Molecular and Cellular Biology in Warsaw.
Prof. Dziembowski's primary research interest is posttranscriptional gene expression regulation. Currently, the lab studies RNA biology at the organism level, using Direct RNA Sequencing as an experimental approach and transgenic mouse lines as a model system.
Prof. Dziembowski is the author of more than 100 research articles, many of which have been published in prestigious journals such as Nature, Cell, Nature Structural and Molecular Biology, Genes and Development, Molecular Cell, EMBO Journal and EMBO Reports. His research has been supported by numerous national and international grants, including ERC Advanced Grant (2022).
7. Marcelina Jureczko
Biotechnology Center Silesian University of Technology, Gliwice, Poland
The Spokesman of Science, Poland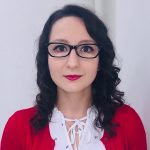 PhD Eng Marcelina Jureczko is a science communicator, academic teacher, and biotechnologist. Since 2020, she has been a member of the Association of the Spokespersons of Science. Her passion is popularizing science through lectures, workshops, laboratory classes, and even stand-up comedy. She has participated in numerous science picnics and festivals and collaborated with various nationwide media outlets (Super Polsat, TVP, Radio Kraków, Radio Katowice, Czwórka – Polskie Radio, Newsweek, Gazeta Wyborcza, Forum Akademickie, PAP – Nauka w Polsce). She is a finalist in the "Three Minute Thesis" and a semi-finalist in "FameLab" – competition for the best popular science presentations. In 2021, she received the "POP Science" award at the Silesian Science Festival for her contributions to science popularization. More information about her activities can be found on her ebsite: https://www.facebook.com/Marcelina-Jureczko-108851200689784 Marcelina holds a MSc and an Eng degree in biotechnology and has obtained a PhD in the field of engineering and technology at scientific discipline: environmental engineering, mining, and energy. For her doctoral dissertation she has received the Prime Minister's Award. She currently teaches at the Silesian University of Technology and leads a research grant funded by the National Science Centre. Her research focuses on the toxicity of cytostatic drugs in the aquatic environment and investigates methods for their removal using fungi. In the past year, she completed internships at prestigious research institutions: the Spanish National Research Council in Barcelona and the Polish Academy of Sciences in Poznań.
8. Wojciech Fendler
Department of Biostatistics and Translational Medicine
Medical University of Lódź, Łódź, Poland
Professor Wojciech Fendler MD, PhD (born 1982) graduated from the Medical University of Lodz. After obtaining PhD in 2011 and habilitation in 2013 he launched a biomarker project on microRNA biomarkers in oncology and radiotherapy together with prof. Dipanjan Chowdhury from the Dana-Farber Cancer Institute and Harvard Medical School. He has authored numerous high-impact publications in top journals in diabetology (Diabetes Care, Diabetologia), radiotherapy and oncology (International Journal of Radiation Oncology, Biology, Physics, Cancer Research, Clinical Cancer Research), experimental medicine (Science Translational Medicine) and basic sciences (Cell Reports, Nature Communications, eLife). Prof. Fendler is the recipient of several prestigious awards for young researchers including the Award of the National Science Centre in Life Sciences in 2020, START scholarship of the FNP (twice), Stipend of the Polpharma Foundation, Scholarship of the Ministry of Science and Higher Education, award of the Ministry of Health for habilitation and several others. International recognition of his works was awarded with the ISPAD-Medtronic Young Investigator Award in 2015 granted to outstanding researchers aged <40 in paediatric diabetology. During his career he has lead or supervised 28 research projects funded from the National Science Centre, Foundation for Polish Science and EU funds. Currently, as a leader of the Department of Biostatistics and Translational Medicine he explores the potential for biomarker assessment of risk incurred by ionizing radiation and detection of early stages of ovarian, breast and pancreatic cancers.
9. Krzysztof Sobczak
Department of Gene Expression
Adam Mickiewicz University, Poznań, Poland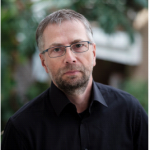 Krzysztof Sobczak – professor of Adam Mickiewicz University (AMU) in Poznan (Poland). He got PhD degree and postdoctoral degree in chemistry from the Institute of Bioorganic Chemistry PAS. He was awarded the title of professor of biology in 2019. Since 2019, he is the director of the Institute of Molecular Biology and Biotechnology of AMU. In 2005-2009 he completed a postdoctoral fellowship at the University of Rochester (USA). In 2010, he founded a new research group, whose interests focus on the elucidation of the molecular pathomechanisms of human genetic diseases caused by the expansion of trinucleotide repeats and the development of therapeutic strategies targeting mutant RNA. He is the author of over 70 original articles which were cited ~4,000 times (ORCID: 0000-0001-8352-9812).
10. Piotr Kowalski
School of Pharmacy
University College Cork, Cork, Ireland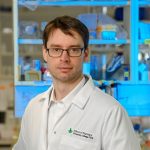 Dr. Kowalski is an Associate Professor in advanced therapies at the School of Pharmacy, University College Cork, and a Funded Investigator at the APC Microbiome Ireland. He earned his Ph.D. in 2014 from the University of Groningen (the Netherlands) which focused on the development of lipid-based systems for tissue selective delivery of siRNA. He received his postdoctoral training at the Koch Institute for Integrative Cancer Research at the Massachusetts Institute of Technology in the laboratories of Prof. Daniel Anderson and Prof. Robert Langer. His multidisciplinary research focused on engineering novel biomaterials to enable the delivery of messenger RNAs to treat inflammatory diseases, cancer, and diabetes. Dr. Kowalski's work resulted in a number of high-impact publications, several patents on RNA delivery technologies, and the creation of a US-based biotech startup (Orna therapeutics). His research at UCC is centered on developing Advanced Therapy Medicinal Products, in particular, novel clinically relevant drug delivery technologies for parental and non-parental applications, to facilitate effective nucleic acid-based therapies aimed at high medical need diseases that lack effective treatment. Dr. Kowalski has recently won a prestigious European Research Council Starting grant to develop a new class of circular RNA therapeutics. Currently, his group investigates the therapeutic potential of RNA molecules, including short interfering RNAs, messenger RNAs and circular RNAs, to treat diseases such as sepsis, inflammatory bowel disease, and cancer and develops methods to deliver these RNA-based drugs to diseased cells.
11. Tomasz Stokowy
Scientific Computing Group
University of Bergen, Bergen, Norway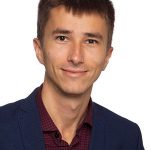 Tomasz Stokowy works at the University of Bergen IT Division, where he leads the Scientific Computing group. He holds degrees in engineering and medicine, supported by 15 years of practical experience in the analysis of biomedical data. His academic work has resulted in more than 60 scientific publications. He completed TEKNA GILA, a Norwegian program focused on the development of technical leaders. Currently, his role focuses on the development of complex IT infrastructures for research at NRIS (https://www.sigma2.no/nris) and NREC (https://www.nrec.no).
Archive: